SILICONE RUBBER COATED GLASS FABRIC
Silicone Rubber Coated Glass Fabric
Glass fabric both side coated
Glass fabrics coated on both side with silicone rubber. On request, one side silicone rubber coated products are also available.
Properties:
High – temperature resistant (up to 230 °C)

Excellent release properties

Superior abrasion resistance

Good chemical resistance

Superior dielectric properties


MRP silicone coated fabrics can be used in a wide range of industrial applications, such us; Shrink Tunnels; Foam Manufacturing; Electrical Insulation Tapes; Conveyor Belts; Safety Curtains; Release and Separator Sheets; Gasketing.
We also supply silicone glass fabrics with one side pressure-sensitive adhesive. MRP pressure-sensitive silicone tapes can be used in mechanical, electrical and industrial applications. (Plasma Spray Masking Tapes or Hi-Friction Tapes)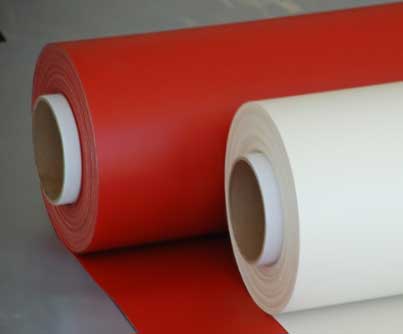 Silicone Rubber Coated Glass Fabric - Properties
Product
Standard widths
Standard Roll Length
Minium Slit width
Backing
Total thickness
Backing
Adhesion
Code
(mm)
(m)
mm
thickness
(mm)
weight
(N/5cm)
(mm)
(g/m²)
A03-55
1000
30
5
0,075
0,125
135
22
A03-65
1000
30
5
0,075
0,125
135
22
A03-70
1000
30
5
0,075
0,125
135
22
A05-40
1000
30
5
0,125
0,175
255
27
A05-50
1000
30
5
0,125
0,175
255
27
A05-55
1000
30
5
0,125
0,175
255
27
A05-60
1000
30
5
0,125
0,175
255
27
A06-60
1000
30
10
0,140
0,190
296
28
A06-65
1000
30
10
0,140
0,190
296
28
A06-70
1000
30
10
0,140
0,190
296
28
A10-45
1000
30
10
0,25
0,31
530
30
A10-55
1000
30
10
0,25
0,31
530
30
A10-60
1000
30
10
0,25
0,31
530
30
A10-65
1000
30
10
0,25
0,31
530
30
A10-70
1000
30
10
0,25
0,31
530
30
A14-60
1000
30
10
0,350
0,420
680
37,5
A14-65
1000
30
10
0,350
0,420
680
37,5
Silicone Rubber Coated Glass Fabric with One side Adhesive - Properties

| Style | Color | Width (mm) | Adhesive | Liner | Adhesion |
| --- | --- | --- | --- | --- | --- |
| SR-20RAB | Cream | 20-1000 | Silicone PSA | PVC Liner, yellow | 15 N/25mm |
| SR-20RAB | Red | 20-1000 | Silicone PSA | PVC Liner, yellow | 20 N/50mm |